Outdoor LED Digital Tailer Hire and Signage Solutions
Extend your message beyond your business boundaries utilising outdoor LED digital signage. Crystal Clears range of outdoor IP65 rated hire LED digital trailers and screens allows you to get your message out 24/7, Rain or Shine. Target passing traffic with vibrant, dynamic messaging tapping into potentially 1000's more customers utilising outdoor signage. 
Benefits:

- Get noticed
- Maximise your exposure to traffic
- Advertise to customers 24/7
- Attract new business

Ideal for:

- Product Launches
- Trade Shows
- Sales Events / Specials
- Short & Long Term Hire Available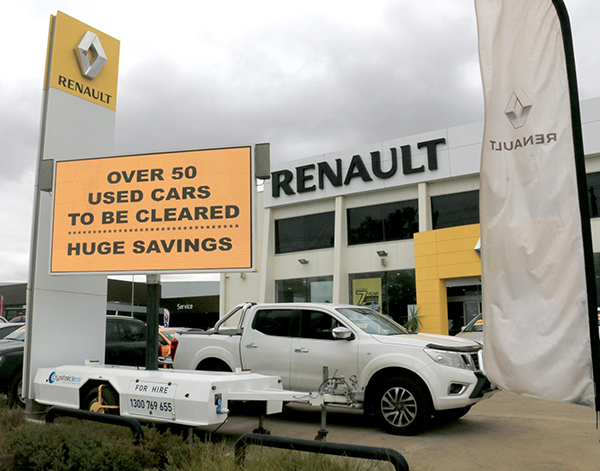 Outdoor Signage Hire
LED TRAILER SPECIFICATIONS: 1. Display Size (2880mm Wide x 1600mm High) 2.Trailer Size 4460mm x 1590mm x 2520mm 3. Waterproof, Speakers x 2, Wide Range of Image Files Supported 4. Mains Powered 240V 10 Amp, GPS Tracked, Wheel Lock 5. Content Management Included as part of the Solution 6. Screen Height Adjustable to 3600mm from Ground Level to Top of Screen 7. Screen is capable of 360 rotation
LED mobile advertising screens are a great way to promote your business in particular when advertising special promotions, product launches and events. Our range of LED hire screens are designed to provide our customers a high level of advertising impact with WOW factor.
Hiring an outdoor mobile colour LED sign is the cheapest way to create an impact on audiences for any sales event or promotion. As a sales business, you simply cannot afford to ignore the benefits and advantages that LED hire trailers can offer in comparison to other outdoor displays. LED hire signs can add a dash of sophistication and glamour to your sales event and create a big impact on your target audiences.
Mobile advertising trailer hire screens score over static signage because they are mobile and can suit any condition and location such as yards, market places, traffic junctions, exhibition areas or by the side of roads. You can reach out to your target audience by adopting outdoor LED hire screens.
Our mobile LED advertising signs can be updated remotely allowing for instant content updating and speed to market with offers, specials and promotions. LED trailer advertising screens are a perfect way to attract new business and upsell existing products or services. With our range of outdoor mobile colour LED signs, you will be able to maximise your exposure to passing traffic and tap into new customers with high bright and clear messaging.
Outdoor Mobile LED Trailer Hire For Melbourne and Surrounding Suburbs
Draw Attention
LED trailer advertising screens are big and bright, they draw a lot of attention which makes them ideal for use as social media walls. Outdoor LED hire screens can display twitter feeds and live updates from other social media platforms, the LED hire trailers can generate huge engagement from guests who can tweet about the event using event-specific hashtags – which is great PR.
LED trailer advertising screens have the ability to bring your showroom room to life especially in the evening. Whilst traditional signage is difficult to see at night having little impact, outdoor mobile colour LED signs are designed to stand out with high bright images and full colour displays. Outdoor LED hire screens have the ability to advertise 24/7 with changing content designed to inform potential customers of a special event or offers. Content is managed by Crystal Clear and updated as directed by the customer.
Many businesses are located in great positions with fantastic exposure to thousands of potential new customers. Unfortunately, not many business's take full advantage of these positions and stick with the same old static signage options. Outdoor Mobile colour LED signs allow you to advertise to these potential customers with high bright and attention-grabbing content. Mobile LED signs allow you to advertise in a clear and concise manner with call to action messaging designed to pull customers into your store or showroom. Mobile LED signs allow your business to stand out from your competitors with high impact messaging designed to attract new customers.
Outdoor Digital Advertising Come Rain or Shine
Outdoor LED hire screens are rated for outdoor usage, meaning they can withstand a substantial amount of impact from the elements. Our quality mobile LED screen are glare-resistant so you can still see the images on the screen clearly and brightly, even when in full sunlight. LED hire trailers are versatile and ideal for numerous outdoor events and can be used all year round, come sun or rain. When you look to hire on of outdoor mobile colour LED signs you can be assured all our screens are properly outdoor rated ensuring your event goes without a hitch.
Five reasons to hire Outdoor Mobile Colour LED signs;
- Increase sales revenue attracting thousands of potential new customers
- Easy installation with mobile LED Sign
- Sales Enhancement with captivating content
- Visibility with long distance viewing in day or night
- Reliability LED technology rated for outdoor usage withstanding rain, wind and sunlight
---
LED DIGITAL TRAILER HIRE MELBOURNE
Have Any Questions About Our LED Trailers? Call us on
1300 769 655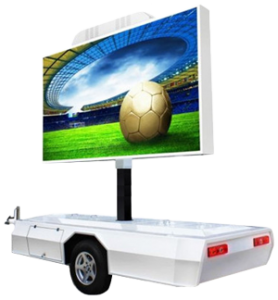 Contact Us for a
Free Consultation