Mobile Mirror is an exclusive digital POS digital mirror display solution distributed and supported via Crystal Clear designed specifically for the fashion industry. German designed and built, the Mobile Digital Mirror is at the forefront of European shopping fashion. Mobile Mirror is a 360-degree shopping experience allowing customers to view at themselves from every angle while trying on garments with delayed view and video playback.
How Can The the Mobile Digital Mirror Benefit your Business?
Pictures and video can be taken with the retailer's brand name or logo attached and sent directly to the customers own smartphones or directly uploaded to social media via Facebook, Twitter or emailed to the customer's social networks.
"Does this look good on me?"
Customers can receive instant feedback from their friends or family on items they are considering purchasing.
Every image or video will be branded with your logo giving you access to thousands more customers via social media. This allows you to instantly tap into many more customers than the traditional word of mouth approach.
Increasing customer dwell time and making and the shopping experience "fun" for your customers will improve sales and give you a point of difference from your competitors.
A virtual fashion mirror solution your customers can experience in-store.
Components:
Mobile Mirror 42" & 21,5"
Innovative 360°Fitting
Shopping Experience
Sales promotion effect by the purchase support of friends
Social Networks as multiplicators: Effective social media marketing tool
Customers introduce their friends which is an effective referral marketing
Persistant Multi-Channel-Approach
Enhancing the attractiveness by additional service
Active promotion of the own Homepage/Onlineshop as virtual shelf extension
Combination of physical and digital shopping world
High innovative level
Benefits:
High Customer Reach and Brand Awareness by retailer branded photos
Increased Customer Frequency
No Log-in at the terminal necessary, therefore high Customer Acceptance
Additional Advertising Space by Digital Signage
Additional communication channel to the customer
Design and Model Examples:
Mobile Mirror Standing Terminal: 2065x 126x 743 mm
Mobile Mirror Mini Standing Terminal: 1767x 78x 429 mm
Wall Terminal 42" : 1230x 126x 743 mm
Wall Terminal 21,5": 687x 78x 429 mm
White and Black (individual varnishing on request)
Individual branding of Hardware and Application
Smart Phone App
Smartphone App Mobile Mirror for the virtual wardrobe
App also branded
Upload at the terminal or App Store
Android and iOS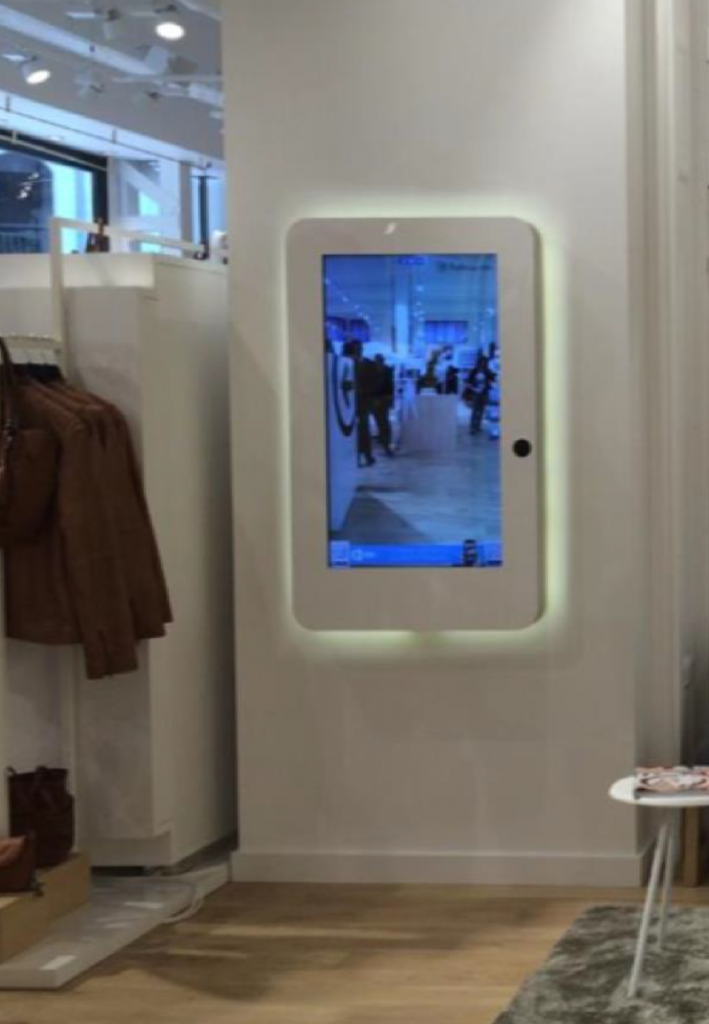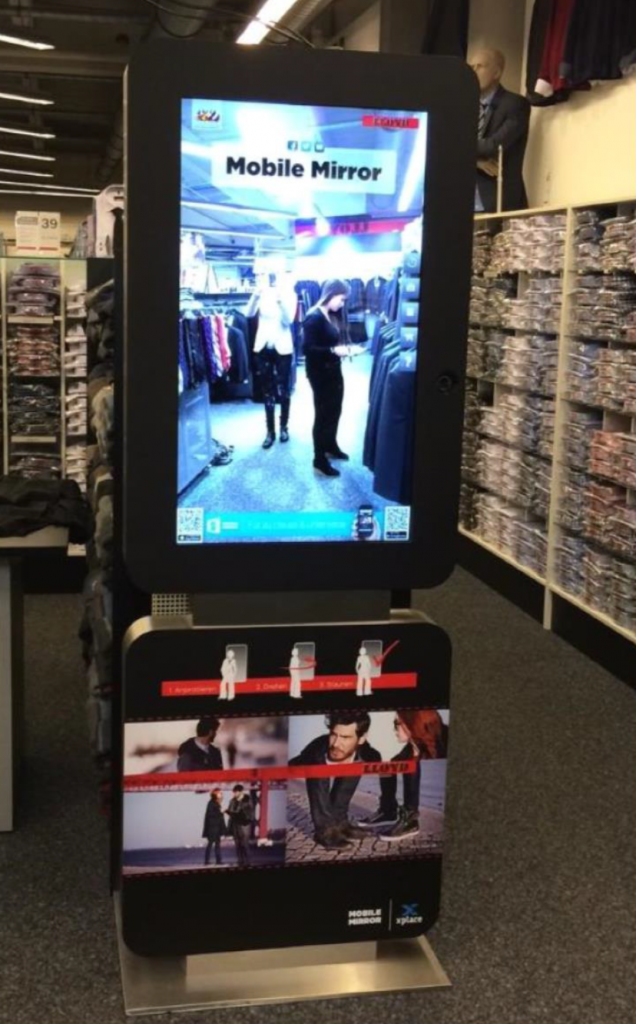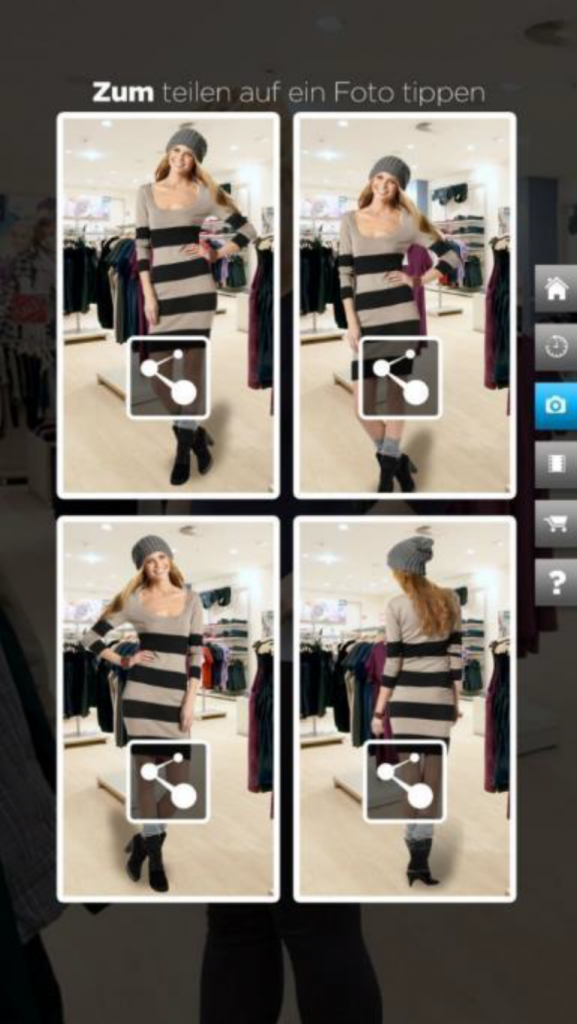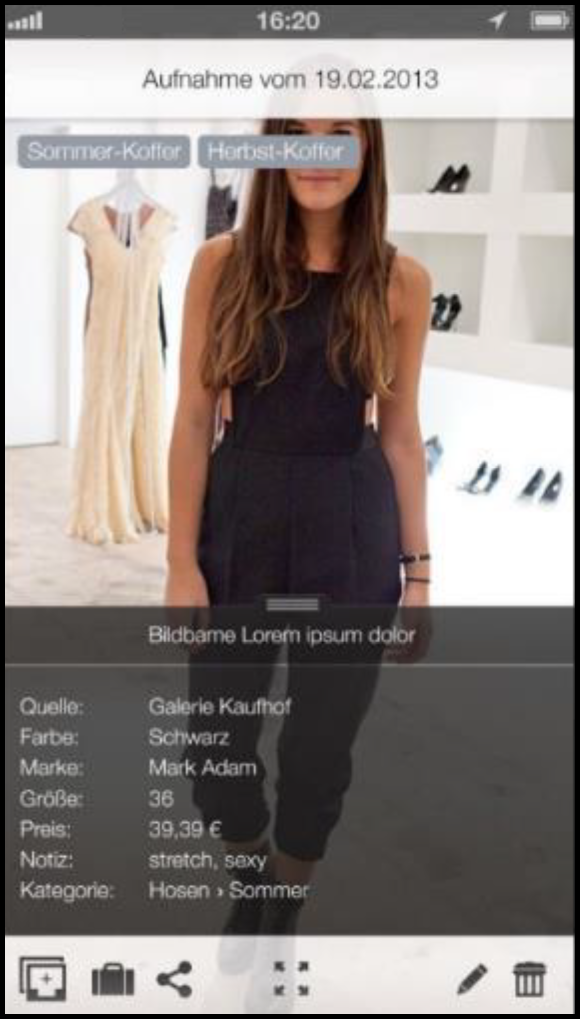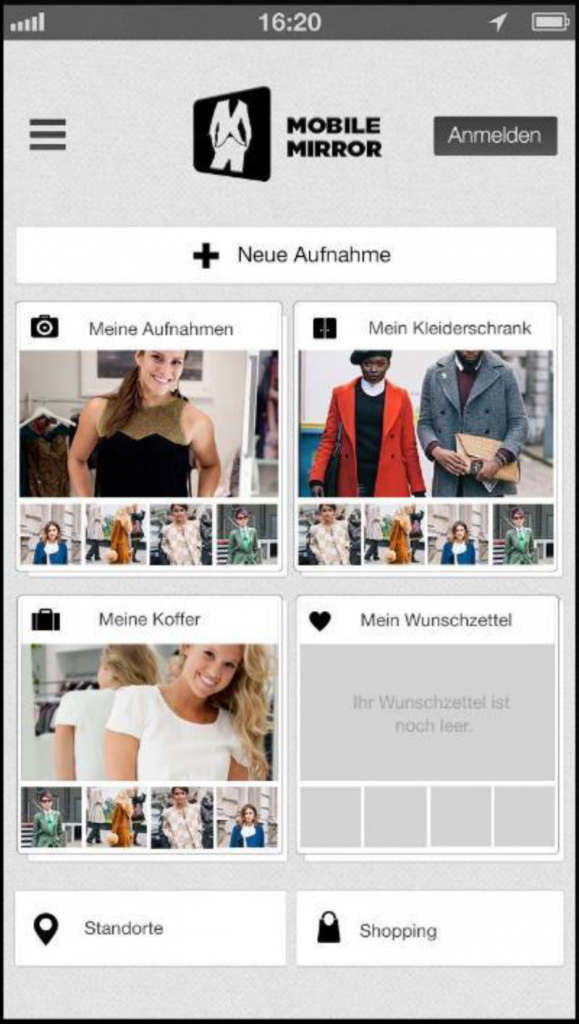 {"dots":"true","arrows":"true","autoplay":"true","autoplay_interval":"3000","speed":"300","design":"prodesign-17","rtl":"false","loop":"true","slidestoshow":"3","slidestoscroll":"1","centermode":"false"}